Hast du gewusst, dass du Putzen als Workout zählen kannst? Nicht? Mit Baby sogar noch mehr als ohne, da kannst du zusätzliches Gewicht verwenden und einige Übungen machen, die ohne Baby nur halb so lustig sind ;-) Deine Böden werden glänzen, die Wäsche gewaschen und aufgehängt sein, das Geschirr ebenfalls, das Baby wird schlafen, und du hast noch dazu ein tolles Workout absolviert! Klingt gut oder?!
Did you know that you can count cleaning as a workout? No? With a baby even more, as you can use additional weight and do some exercises that would be only half the fun without a baby ;-) Your floors will shine, all the laundry will be done and the dishes will be washed and put away, the baby will be fast asleep, all while you got a great workout in! How does that sound?
Wie bei allen Mamaness Workouts gilt hier auch: es ist überhaupt kein Problem, wenn du nicht das gesamte Workout (2-3 Durchgänge jeder Übung) auf einmal schaffst, weil dein Baby nicht so lange schläft (oder nur im Kinderwagen/Tragetuch unterwegs etc.) oder mitmacht. Immer wieder mal zwischendurch eine Übung ist genauso effektiv und viel viel besser als gar nichts!
And as for all Mamaness Workouts applies: its ok when you don't have time to do the whole workout at once (2-3 sets of each exercise) because your baby won't sleep that long (or only in the stroller/babywrap etc) or participate  Doing only shorter parts during the day is also very effective and much much better than nothing!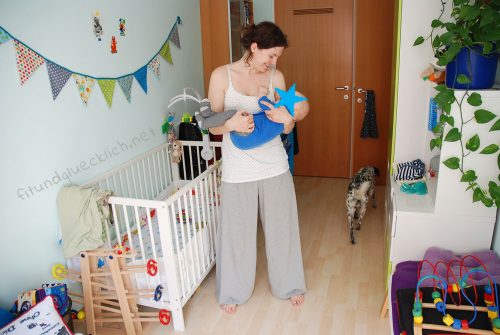 Wichtig: in allen Übungen wird der Bauchnabel und der Bereich darunter nach innen gezogen – das aktiviert den Beckenboden! Disclaimer: vor allem nach einer Schwangerschaft immer auf den Körper achten und gegebenenfalls mit einem Arzt Rücksprache halten wie viel Sport im individuellen Fall in Ordnung ist. Dieses Workout kann auch bei bestehender Diastasis recti (Spalt zwischen den Bauchmuskeln) gemacht werden.
Important: tuck in your belly button and the area below it in all the exercises – that activates your pelvic floor! Disclaimer: always consult your doctor how much sport is ok in your individual case, especially after a pregnancy. This workout is fine to do with diastasis recti (ab gap).
Mamaness Workout # 8 – Sparkling House
1. Ausfallschritte mit Baby / Lunges with baby
Aufrechter Stand, Rücken gerade, das Baby ist vorne in der Trage. Einen großen Schritt nach vorne machen, das hintere Knie ist knapp über dem Boden. Das vordere Knie darf nicht über die Zehen hinaus gehen, der Rücken bleibt gerade. Mit den Händen ein Wäschestück aus dem Korb nehmen. Nun den Po anspannen und wieder hoch in die Ausgangsposition drücken, das Wäschestück aufhängen. Mit dem anderen Bein beim nächsten Wäschestück wiederholen bis der Wäschekorb leer ist.
Stand upright, back straight, your baby sits in the baby carrier. Make a large step forward, the back leg nearly touches the floor. The front knee has to stay behind your toes, the back keeps straight. Grab a piece of laundry from the basket. Now flex your butt and push back in starting position and put the laundry on the laundry rack. Repeat with other leg for the next piece, until your basket is empty.
2. Bauch-Wischen / Ab Slide
Beginne auf allen Vieren, einen Putzlappen unter den Händen am Boden. Mit dem Lappen langsam nach vorne in die Planke rutschen (die Knie bleiben diesmal am Boden). Den Lappen langsam wieder zurück Richtung Knie ziehen.
Mindestens 10 Wiederholungen, dann zum nächsten schmutzigen Teil des Bodens wechseln und wiederholen.
Start on all fours, a cleaning rag beneath your hands on the floor. Slide the rag forward until you are in plank position (knees stay on the ground this time). Pull the rag slowly back toward your knees. 
Do at least 10 repetitions, then move on to another dirty spot on the floor and repeat.
3. Kniebeugen mit Baby / Squats with baby
Schulterbreiter Stand, die Arme hängen seitlich nach unten oder unterstützen vorne das Baby (oder halten es, falls ihr keine Trage habt), Rücken gerade. Den Po Richtung Boden führen, die Knie beugen. Der Rücken bleibt gerade, und die Knie bleiben hinter den Zehenspitzen. Po und Oberschenkel anspannen und wieder nach oben drücken.
10 Wiederholungen nach jedem gesaugten Raum
Stand upright, back straight, arms either on your sides or supporting your baby (or carrying him, if you don't have a baby wrap). Bring your butt towards the floor and bend your knees, like when you sit down on a chair. The back stays straight, knees stay behind your toes. Flex your butt and thighs and press up to the starting position.
10 reps after each vacuumed room
4. Holzhacker / Wood Chopper 
Aufrechter Stand, Füße schulterbreit entfernt, Knie in einer Linie mit den Füßen. Mit beiden Händen ein Geschirrstück aus dem Geschirrspüler nehmen, den Oberkörper zur Seite rotieren und das Geschirrstück mit gestreckten Armen quer über den Körper nach oben bewegen. Gleichzeitig aufrichten, den Oberkörper drehen und auf die Zehenspitzen rollen. Die Bauch- und Rückenmuskeln sind immer angespannt und kontrollieren die Bewegung. Das Geschirrstück in das dafür vorgesehene Regal stellen, die Bewegung umkehren und das nächste Stück aus der Maschine nehmen.
Wiederholen, bis der Geschirrspüler leer ist
Stand upright, feet shoulder-width apart, knees in line with your feet. Grab a dish from the dishwasher with both hands, twist your torso to the side and lift said dish up and across your body with straight arms. At the same time stand up and turn your torso. Keep your core muscles engaged at all times, using them to control the movement. Rise up onto your toes as you twist. Put the dish in its designated rack and reverse the movement to grab the next dish. 
Repeat until the dishwasher is empty
5. Wiege / Rocker
Aufrechter Stand, Füße etwas breiter als hüftbreit auseinander, das Baby liegend in die Arme nehmen, Rücken ist gerade. Nun die Unterarme leicht auf und nieder bewegen, kleine pulsierende Bewegungen. Gleichzeitig leicht in die Knie gehen und das Gewicht von einem Bein aufs andere verlagern und immer hin und her schaukeln. Nach einer Weile solltest du vor allem deinen Bizeps und die Oberschenkel spüren, Rücken, Bauch und Schultern helfen mit.
So lange durchführen, bis das Baby schläft!
Stand upright, feet a bit more than shoulder wide apart, your baby lies in your arms, your back is straight. Now pulse your lower arms up and down with a small movement. At the same time bend your knees a bit and shift your weight from one foot to the other – rock from side to side. After a while you should feel your biceps and hamstrings, your back, abs and shoulders do support.
Keep up until your baby falls asleep!
Viel Spaß beim Trainieren!! Falls ihr über das Workout twittert/instagrammed/etc. würde ich mich freuen, wenn ihr den Hashtag "Mamaness" verwendet. So können wir immer sehen, das wir nicht alleine trainieren! ;-)
Have fun training!! When you twitter/instagram/etc. about your workout I would love when you use the hashtag "mamaness". So we can all see that we don't train alone!! ;-)