Gerade jetzt in der Übergangszeit (kann man das so nennen, wenn man jetzt schon permanent friert?? ;-)) kann man eine Extradosis Vitamine gut gebrauchen. Aber auch gerade jetzt vergisst man nur allzu gerne darauf – das trübe, dunkle Wetter schlägt auch aufs Gemüt und man greift gerne zu Seelentröstern wie Schokolade und Fast Food. Dabei können die Vitamine soooo gut sein!!
One can use an extra dose of vitamins right now in the transition period (can you call it that, if you are already permanently freezing? ;-)) . And also right now its very likely to forget eating them – the murky, dark weather gets on the mind and we are seeking fast and easy comforters like chocolate and fast food. But I'll tell you a secret: vitamins can taste soooo good!
Iglo hat mich gebeten, mit Zutaten aus dem Kühlregal einen leckeren Smoothie zu zaubern*. Von Iglo gibts da viel was man verwenden kann, wenn man gerade keine frischen Zutaten daheim hat (und bekanntlich sind ja bei Tiefkühlware oft noch mehr Vitamine enthalten als bei lange gelagertem "frischem" Gemüse): Spinat, Beeren, Petersilie…
Iglo asked me to make a smoothie with some of their frozen ingredients*. There are lots of products to choose from (and as we all know there are more vitamins in frozen foods than in some "fresh" food): spinach, berries, parsley…
Herbst heißt für mich aber auch Maroni, also hab ich ums Maronipüree von Iglo herum einen leckeren Smoothie kreiert:
Fall also means chestnuts for me, so I created a yummy smoothie with chestnut mush:
Herbstlicher Power-Smoothie / Fall Power Smoothie
Zutaten für 1 Portion

—————

Ingredients for 1 serving
3 EL passierten Spinat
3 EL ungesüßtes Maronipüree
1 Dattel
1/2 Banane
1 TL Lebkuchengewürz
150ml Milch nach Wahl
3 tbsp spinach
3 tbsp chestnut mush
1 date
1/2 banana
1 tsp gingerbread spice
150ml milk of choice
Zubereitung / Method
Falls noch gefroren: die gefrorenen Zutaten (Spinat und Maronipüree) auftauen.
If still frozen: defrost the frozen ingredients (spinach and chestnut mush)
Alle Zutaten in einen Mixer geben und durchmixen bis keine Klumpen mehr drinnen sind.
Put all ingredients in a blender and mix until smooth.
In ein Glas gießen und genießen.
Pour in a glass and enjoy.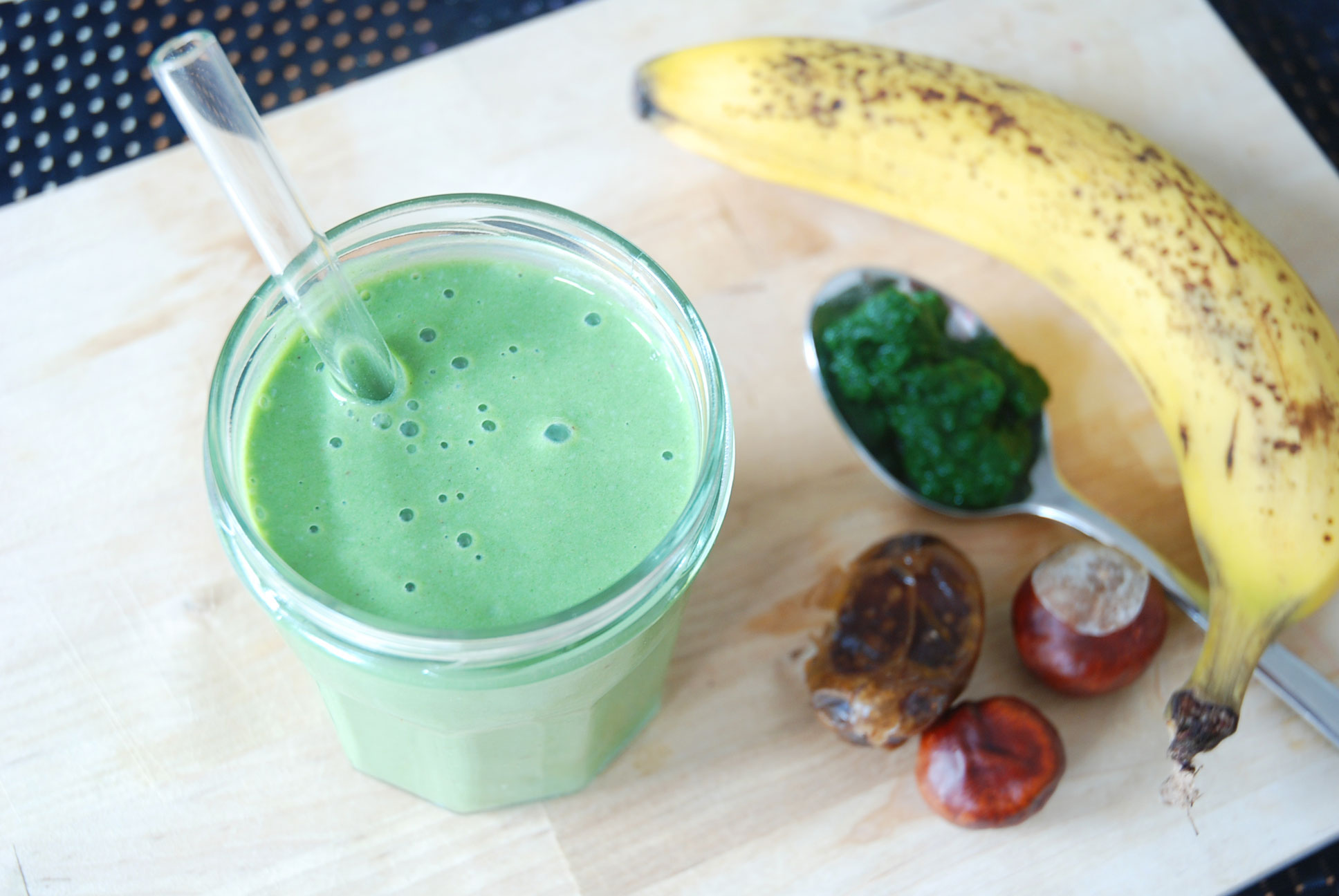 Dieser Smoothie steckt voller Power und Vitamine und schmeckt dabei wie ein Dessert!! Was will man mehr?! (Der Testtrinker meinte: "Schmeckt wie ein Lebkuchen") Habt ihr einen Lieblingssmoothie? Verwendet ihr frische oder gefrorene Zutaten?
This smoothie is full of power and vitamins while tasting like dessert!! What's more to wish?! (My taste tester said it tastes like gingerbread) Do you have a favourite smoothie? Do you use fresh or frozen ingredients?

* Ich wurde für diesen Beitrag nicht vergütet, einzig die beiden Iglo Zutaten wurden mir gratis zur Verfügung gestellt.
* I didn't get compensated for this post, only the two ingredients from Iglo were given to me for free.
Link des Tages / Link of the day