Ich hör ganz oft: "Waaaaas, 20 Liegestütze? Ich bin ja kein Mann!" Liegestütze werden so oft als männliche Übung gesehen, dabei können Frauen sie auch!! Im Grunde stemmt man sein eigenes Körpergewicht, nicht mehr und nicht weniger (was man natürlich mit den verschiedenen Kniepositionen ein bisschen verändern kann). Also, seid ihr soweit? Wir machen uns auf den Weg zu 20 richtigen Liegestützen (am Stück!)!!
I often hear: "Whaaaaaat, 20 push ups? I'm no man!!" Push ups are often seen as male only exercise, but woman can do them too!!! You just push your own bodyweight, not more, not less (you can just vary a bit with different knee positions). Are you ready? We are on our way to 20 real push ups (in one set!)!
Das Programm richtet sich an alle, die momentan schon mindestens 3 richtige Liegestütze (also ohne Knie am Boden) machen können. Alle anderen fangen bitte mit den berühmten "Damenliegestützen" an (und zwar so viele das ihr auch etwas spürt, und so oft das ihr eine baldige Steigerung bemerkt, am besten alle 2 Tage!).
The programme is for everyone who can do at least 3 real pushups (without knees on the ground). Everyone who can't should begin with "woman pushups" (so many that you feel it, and so often that you feel an improvement, every two days would be best)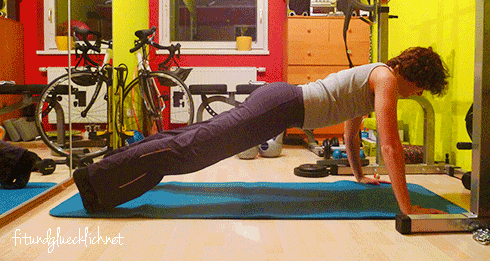 Wir trainieren die Liegestütze 3x die Woche, am besten immer mit einem Tag Pause dazwischen. Wir machen 4 Sätze, der letzte jeweils mit so vielen wie nach den ersten dreien noch möglich sind (und wenn das nur ein "halber" ist, also nicht ganz bis zum Boden, dann soll es so sein!! Ihr könnt aber auch noch einige auf den Knien anhängen, dann ist es doppelt wirksam). Hier die ersten 2 Wochen:
We are doing push ups 3 times a week, best split is one day on / one off. We are doing 4 sets, the last one is maximum reps, so you are doing as many as you can after the first three sets (and if its only one "half", not fully to the ground thats great too. You can also do some on your knees to make it more effective). Here are the first two weeks:
Woche 1 / Week 1:
Tag1 / Day1 –  2/3/2/max
Tag 2 / Day 2 – 3/4/2/max
Tag 3 / Day 3 – 3/4/3/max
Woche 2 / Week 2:
Tag 1 / Day 1  – 4/3/2/max
Tag 2 / Day 2 – 4/5/3/max
Tag 3 / Day 3 – 5/5/4/max
Die nächsten Wochen folgen in Kürze, ich wünsch euch in der Zwischenzeit viel Spaß beim Training!!!! Ihr könnt mich über euren Trainingserfolg am Laufenden halten (oder Fragen stellen) indem ihr einen Kommentar hinterlasst, hier, auf Facebook oder auf Twitter (verwendet #fitgluecklich)
The plan for the next weeks will follow soon, I wish you lots of fun training in the meantime!! You can update me about your training success (or ask questions!!) by comment here ore on Facebook or Twitter (use #fitgluecklich).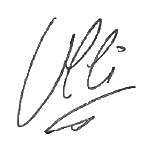 Link des Tages / Link of the day
[youtube http://www.youtube.com/watch?v=SrUwbqKvuPs]