Hi! Könnt ihr glauben, das ich euch heute schon den letzten Teil des Liegestützprogrammes schreibe? Wie die Zeit vergeht!! Ich hoffe ihr seid alle noch dabei, die ersten vier Teile (insgesamt 8 Wochen) findet ihr hier, hier, hier und hier.
Hi!! Can you believe I'm writing the last part of the push up programme already today? How time flies!!  I hope you are still in, you can find the first parts (8 weeks total) here , here, here and here.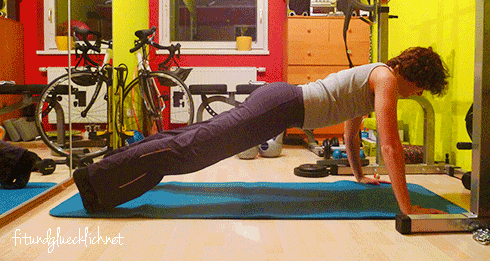 Noch einmal die grundsätzlichen Regeln: Wir trainieren die Liegestütze 3x die Woche, am besten immer mit einem Tag Pause dazwischen. Wir machen 4 Sätze, der letzte jeweils mit so vielen wie nach den ersten dreien noch möglich sind (und wenn das nur ein "halber" ist, also nicht ganz bis zum Boden, dann soll es so sein!! Ihr könnt aber auch noch einige auf den Knien anhängen, dann ist es doppelt wirksam). Also, Trommelwirbel, hier kommt die letzte Woche:
Again the basic rules: We are doing push ups 3 times a week, best split is one day on / one off. We are doing 4 sets, the last one is maximum reps, so you are doing as many as you can after the first three sets (and if its only one "half", not fully to the ground thats great too. You can also do some on your knees to make it more effective). Drumroll please, here is the last week:
Woche 9 / Week 9:
Tag 1 / Day 1  – 18/18/16/max
Tag 2 / Day 2 – 19/18/17/max
Tag 3 / Day 3 – 20/18/18/max
Gratuliere!!! Ihr könnt 20 "richtige" Liegestütz am Stück, und mehr noch, ihr könnt dann noch weiter machen! Wie fühlt sich das an? Gut? Na ich hoffe! Ich bin stolz auf euch und freu mich, das ihr so lange dabei geblieben seid. Ihr könnt mich natürlich weiterhin über euren Trainingserfolg am Laufenden halten (oder Fragen stellen) indem ihr einen Kommentar hinterlasst, hier, auf Facebook oder auf Twitter (verwendet #fitgluecklich). Und damit wünsch ich euch noch einen schönen Tag!!
Congratulations!!! You can do 20 "real" pushups in one set, and you can do even more!! How does that feel? Great? Sure hope so!! I'm proud of you and happy that you kept it up that long. You can still update me about your training success (or ask questions!!) by comment here ore on Facebook or Twitter (use #fitgluecklich). And now I wish you a great day!!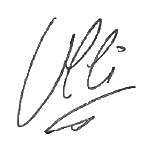 Link des Tages / Link of the day