Hi!!
Längster Post-Name ever ;-)
Longest Post-title ever! (And I didn't even translate it, as I'm pretty sure you'll understand anyway!) ;-)
Sommerzeit ist Grillzeit, auch wenn das Wetter manchmal nicht so mitspielt!! Letztens hat Max beim Fleischer tolle Steaks gekauft und ich hab ein Rezept gefunden das irgendwie genau zu den Freunden gepasst hat mit denen wir vorhatten zu grillen:
Summertime is BBQ-time, also when the weather is not right!! Some time ago Max bought some great steaks at the butcher and I found a recipe that was perfect for the friends we planned to BBQ with:
Rib-Eye in Cola mit Avocado-Salsa, Smoky Red Pepper Relish und Petersilien-Salsa
Rib-Eye in Coke with Avocado-Salsa, smoky red pepper relish and parsley-salsa 
Zutaten Marinade

—————

Ingredients marinade
1 gelbe Zwiebel
1 Knoblauchzehe
250ml Cola
250ml Sojasauce
1 EL Olivenöl
2 TL Paprika
1 TL Cayennepfeffer
(4 Rib-Eye Steaks)
1 yellow onion
1 garlic clove
250ml Coke
250ml soy sauce
1 Tbsp EVOO (extra virgin olive oil)
2 tsp sweet pepper
1 tsp cayenne pepper
(4 rib-eye steaks)
Für die Steak-Marinade Zwiebel und Knoblauch schälen, fein hacken und mit allen anderen Zutaten (ausgenommen Steaks) in einer Schale vermengen. Die Steaks abspülen, trocken tupfen und in eine Auflaufform geben, die groß genug ist, das alles Steaks in einer Lage hinein passen. Die Marinade darüber gießen und im Kühlschrank zugedeckt über Nacht marinieren. Vor dem Grillen aus dem Kühlschrank nehmen und auf Zimmertemperatur bringen.
For the marinade peel and chop garlic and onion and mix with all other ingredients (except steaks) in a small bowl. Rinse the steaks, pat them dry and put them in a large casserole. Pour marinade over them and put covered in the fridge overnight. Take them out before the BBQ to bring to room temperature.
Den Grill auf mittlere Hitze bringen. Die Steaks aus der Marinade nehmen und auf den Grill legen. 8 bis 10 Minuten unter Wenden (nicht!!! einstechen! das trocknet sie aus!) medium grillen und gelegentlich mit Marinade bepinseln (das haben wir nicht gemacht, waren trotzdem lecker!) Vom Grill nehmen und 5 Minuten in Alufolie gewickelt rasten lassen.
Put the marinade on the BBQ with medium heat. Grill 8 to 10 minutes and flip once (don't tap them, they'll dry out!!). Take from the BBQ and let rest for 5 minutes, covered in aluminium foil.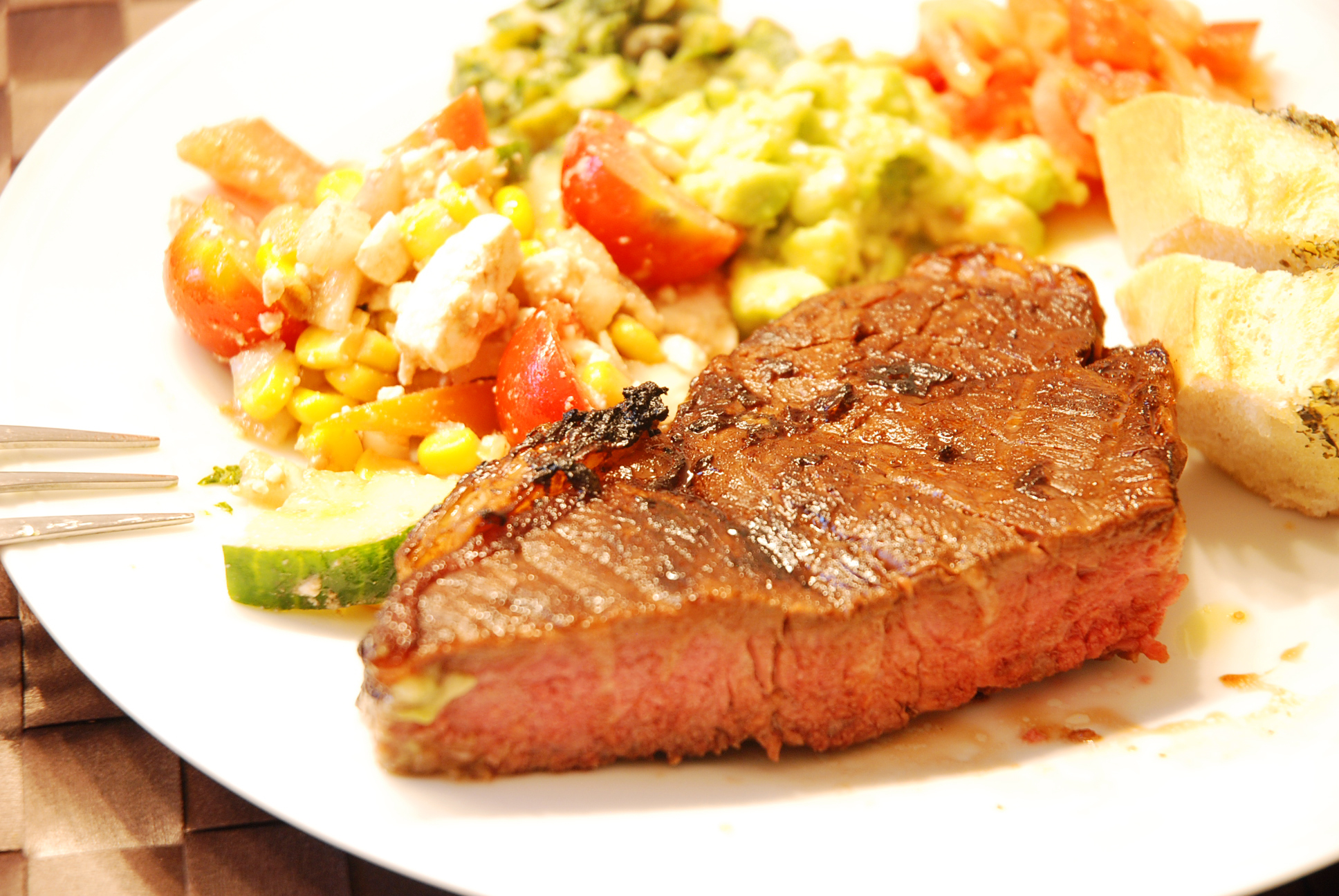 Dazu gabs Avocado-Salsa, Smoky Red Pepper Relish und Petersilien-Salsa. Alle sind schnell gemacht und schmecken echt toll!! Mein Favorit war das Avocado-Salsa, das der anderen drei der Smoky Red Pepper Relish!!
On the side there was avocado-salsa, smoky red pepper relish and parsley-salsa. All of them are easily made and taste great! My favorite was the avocado-salsa, the others liked the smoky red pepper relish best!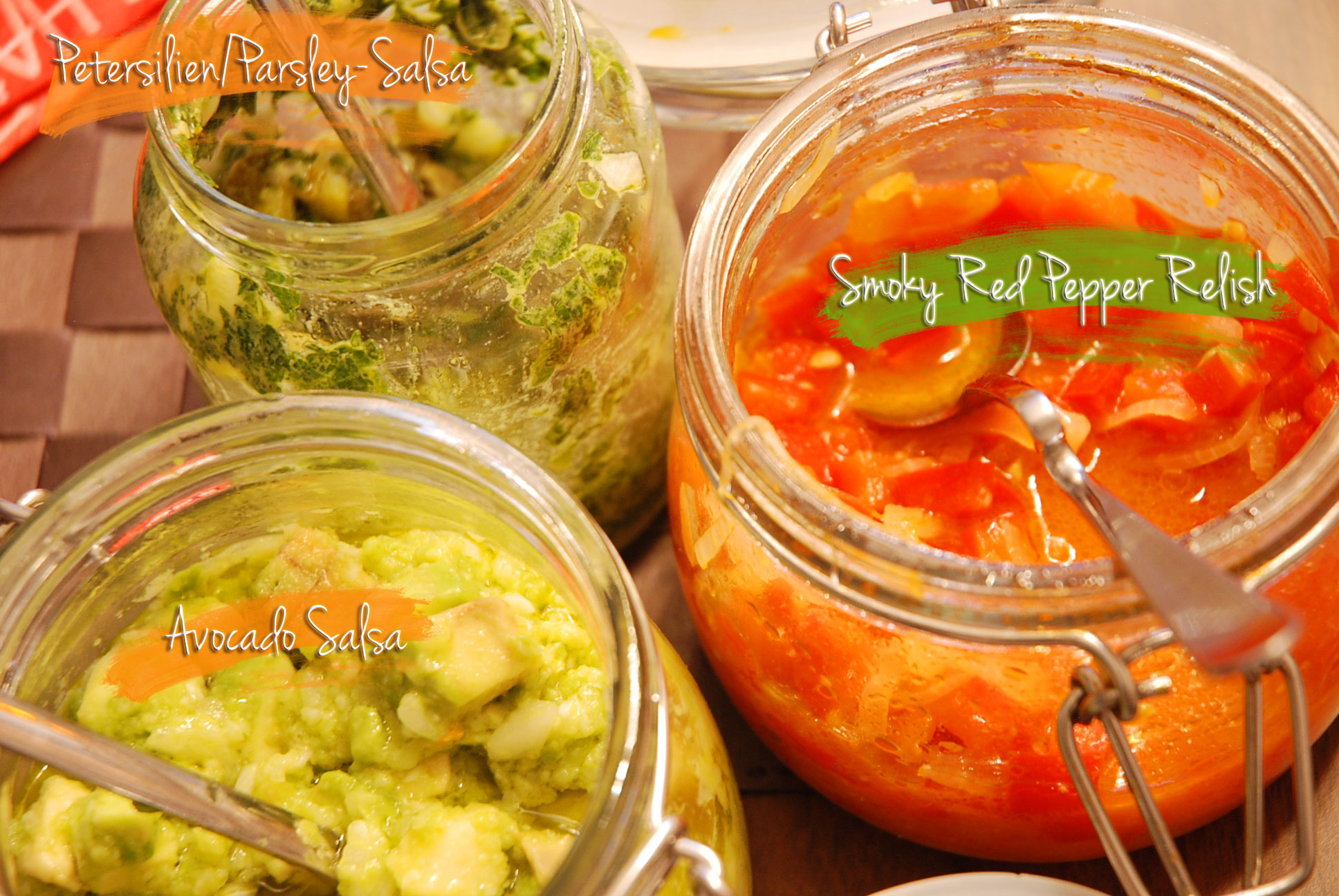 Avocado Salsa
Zutaten Salsa

—————

Ingredients
1/2 kleine Zwiebel
1 Knoblauchzehe
1 rote Chili
5 EL Limettensaft
2 reife Avocados
90ml Olivenöl
Salz
1/2 small onion
1 clove garlic
1 red chili
5 Tbsp lime juice
2 ripe avocados
90ml olive oil
salt
Zwiebel und Knoblauch schälen und mit der Chili fein hacken. Mit Limettensaft vermischen und 5 Minuten stehen lassen (bis der Zwiebel weich wird).
Peel and chop onion and garlic, also chop chili. Mix with lime juice and let rest 5 minutes (till the onion is soft)
Avocados halbieren, den Stein mit einem Messer heraus drehen, das Fruchtfleisch mit einem Löffel herausschaben und grob zerkleinern.
Cut avocados in half, get out the stone and scoop out the flesh with a spoon. Cut it in pieces.
Avocados und Olivenöl zur Salsa geben, mit Salz abschmecken und vermischen.
Mix avocado and olive oil with the rest of the ingredients, add salt to taste and mix well.
Smoky Red Pepper Relish
Zutaten Relish

—————

Ingredients
2 rote Paprika
4 rote Chilis
1 gelbe Zwiebel
1 Knoblauchzehe
4 EL Olivenöl
150g Tomatenfruchtfleisch in Stücken
2 1/2 EL Rotweinessig
1 1/2 TL Rohrohrzucker
2 red peppers
4 red chilis
1 yellow onion
1 garlic clove
4 Tbsp olive oil
150g tomatoes (flesh, in pieces)
2 1/2 Tbsp red wine vinegar
1 1/2 tsp raw cane sugar
Den Grill auf mittlere Hitze bringen und die ganzen Paprika und Chilis unter gelegendlichem Wenden grillen, bis die Haut schwarz wird (6 bis 8 Minuten für den Paprika, 2-3 Minuten für die Chilis) Vom Grill nehmen und auskühlen lassen, bis man sie verarbeiten kann.
Grill red peppers and chills on the BBQ until the skin gets dark (about 6 to 8 minutes for the peppers, 2 to 3 minutes for the chilis). Let cool.
Zwiebel und Knoblauch schälen, die Zwiebel in dünne Scheiben schneiden und den Knoblauch hacken.
Peel and cut onions and garlic.
Paprika putzen und die Haut entfernen (das hab ich weg lassen, meine hat sich nicht so gut abgelöst). Paprika und Chilis klein schneiden (wer mag entfernt die scharfen Kerne der Chilis)
Peel off the skin of the peppers (I didn't do that) and cut peppers and chili (you can take out the spicy kernels of the chili)
Öl in einem Topf erhitzen, Zwiebel und Knoblauch 4-5 Minuten anbraten bis sie weich werden. Paprika, Chili, Tomaten, Essig und Zucker beigeben und 2-3 Minuten köchelnd eindicken lassen (bei mir ists nicht wirklich dick geworden)
Heat oil in a skillet, add onion and garlic and let cook for about 4-5 minutes, until they are soft. Add peppers, chili, tomatoes, vinegar and sugar and let thicken for 2-3 minutes (it doesn't get very thick)
Nach Belieben salzen und auskühlen lassen.
Salt to taste and let cool.
Petersilien-Salsa / Parsley Salsa
Zutaten Petersilien-Salsa

—————

Ingredients
1 Schalotte
1 Biozitrone
30g Cornichons
30g Kapern
2 TL Dijonsenf
3 EL Weißweinessig
100ml Olivenöl
3 Handvoll Petersilienblätter
Salz
1 shallot
1 lemon
30g cornichons
30g caper
2 tsp dijon mustard
3 Tbsp white wine vinegar
100ml olive oil
3 hand full parsley
salt
Die Schalotte schälen und fein hacken.
Peel and chop the shallot.
Zitrone heiß waschen, trocknen, die Schale fein abreiben und den Saft auspressen.
Wash the lemon and grate the lemon zest, squeeze the lemon.
Die Cornichons feinwürfelig schneiden und die Kapern kurz abspülen.
Cut the cornichons and wash the capers.
Alle Zutaten (außer Öl und Petersilie) in einer Schale vermischen und ca. 10 Minuten ziehen lassen.
Mix all ingredients (except oil and parsley) in a bowl and let sit for 10 minutes.
Die Petersilie grob hacken, mit dem Öl beigeben und nach Belieben salzen.
Chop the parsley and mix, together with the oil, to the other ingredients. Salt to taste.
Mmmmh, das war wirklich ein Festmahl und ein sehr sehr netter Abend!!!
It was a great meal and a great evening!!
Ich wünsch euch noch einen schönen Sonntag!!
I wish you a great remaining sunday!!

Link des Tages / Link of the day